Blog
Go Green with an eco-friendly website from Akiko Design
Hosting, Website Development
At Akiko Design we believe organisations large and small have a corporate responsibility to work towards a sustainable future and address the impact of climate change. With the internet now contributing 3.7% of global carbon emissions, ensuring you have an eco-friendly website, that is as green as possible, is equally as important as any other aspect of your business.
It's why we're proud to be pro-active in reducing the environmental impact of our websites and our digital services by considering sustainability in everything we do. By working with Akiko Design, you too can start reducing the carbon footprint of your online presence.
Whilst we've already taken steps to be climate-positive, there's always more that can be done, and we'll continue to consider the environment and our planet in our decision-making processes at every stage possible going forward. By being transparent about our approach, we hope you too will consider the benefits of going green.
Here are the ways in which we're reducing the environmental impact of Akiko Design as an organisation, and our clients' websites.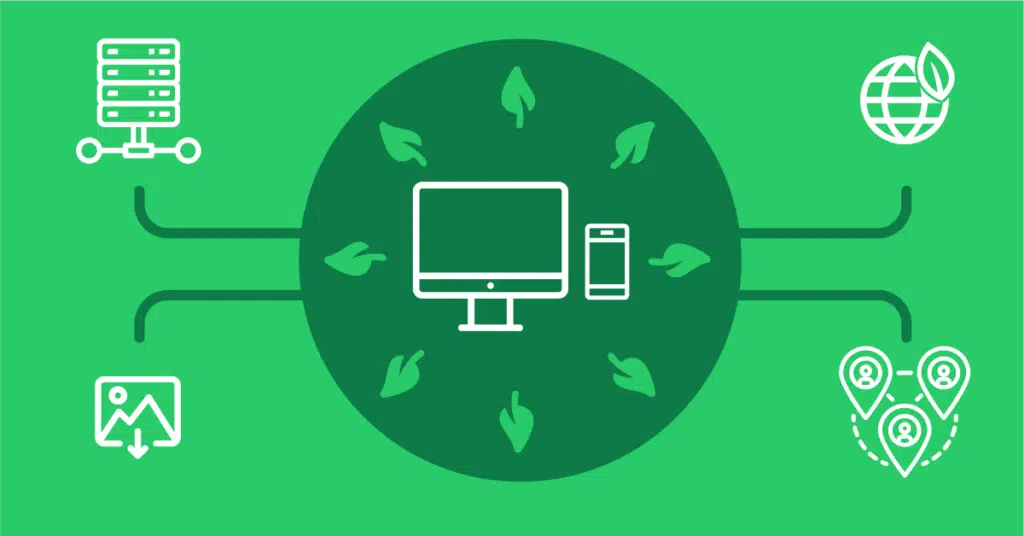 Sustainable green hosting for an eco-friendly website
By only partnering with carefully selected hosting providers, with a similar ethos to us for supporting the environment, we're proud to say that all our websites are powered by green hosting solutions run on 100% renewable energy. From using solar and wind for power, to using energy-efficient data centres that use up to 50% less energy than other options, we're confident we offer one of the greenest website hosting services available.
Fast Efficient Website Hosting
Ensuring your website loads as quickly as possible not only gives visitors a better user experience, it's also better for the environment. The faster it loads, the less server resources and energy it uses. Utilising some of the fastest infrastructure on the market, with 35 data centers across the globe, high-performance CDN with 250+ locations worldwide serving content from the visitors' closest location, and caching built-in as standard, our clients can see up to 200% in performance improvements just by migrating their website to our hosting solution.
Website & Image Optimisation
In addition to using green hosting solutions, optimising a website plays a key role in reducing its carbon footprint. It's why our developers consider sustainability from the outset when a website build commences, using the latest efficient coding techniques to reduce code bloat and achieve the fastest load time possible. Displaying compressed images in an optimised WebP format, HTML code minification, plus external hosting of large media files are all steps we take to ensure websites are as efficient as possible.
Net Zero Carbon Offsetting
To offset the carbon footprint of the Akiko Design website and achieve a net zero environmental impact, we contribute to several nature projects around the world via our donations to Earthly.
Investing in nature to remove carbon and improve livelihoods; our 2023 contributions have supported the 'Peatland Protection' project in the Rimba Raya Biodiversity Reserve in Borneo, and the 'Mangrove Planting' project in Madagascar.
The 'Peatland Protection' project alone has removed over 350 million tonnes of carbon from the atmosphere, restored 120 threatened and endangered species, and improved the healthcare of 9,000 people.
Climate-Positive Website Accreditation for our eco-friendly website
In recognition of our pro-active approach to maintaining an environmentally friendly website, we're extremely proud to have been awarded the Climate-Positive Website Accreditation by the Eco-Friendly Web Alliance. This confirms our commitment to ensure our website averages less than 1g of CO2 emissions per page view, with our homepage cleaner than 80% of other internet pages tested.
Other Steps We Take
Beyond our green hosting services, there are various other ways in which Akiko Design have been pro-active in recent years, or steps that we intend to take in the year ahead, to reduce our carbon footprint.
Less Office Space, Hybrid Working & Online Meetings
Since 2020 and following the Covid-19 pandemic, we took the decision to implement hybrid working arrangements and relocate back to smaller office space in our original location, Guildford. With shorter commutes, less trips to the office, and the continuation of virtual business meetings, the time spent travelling by employees has drastically decreased. Benefitting from smaller office space, and the discontinuation of physical servers, our energy consumption is equally a fraction of pre-covid levels.